FORWARDED AS RECEIVED...........................
---------- Forwarded message ----------
From:
Murli dhar Gupta
<mdguptabpl@gmail.com>
Date: Sun, Jun 9, 2013 at 1:35 AM
Subject: [FunOnTheNet] Largest Foods
To:
Largest Foods".

Hope this keeps you interested in cookery for the weekend. If u make any great dish send me a portion by courier.
Perhaps u could think of making the largest Masala Dosai in the world????????
By the way this request also goes to all recipients of this email---- of course if u make anything special, send me a portion.
World's Biggest Hamburger Weighs A Ton; Looks Kinda Icky
Photo via AP
Every so often, someone breaks a "giant food" record: biggest omelette; biggest single serving of chocolate pudding; biggest hamburger. These are sort of cool. They're more feats of engineering than culinary showpieces, but cool nonetheless. However, the unhappy secret of giant food is It always looks pretty disgusting. Even when onlookers are forced to eat these behemoths for photos, we suspect they are spitting bites out behind the bushes.
The one-ton bacon cheeseburger created in Minnesota on Sunday may be an exception—according to NPR, the Guinness rep said it tasted "pretty good." We don't quite buy it.
The hamburger was 2,014 pounds, the largest burger in world history. It was 10 feet wide, topped with 60 pounds of bacon, 50 pounds of lettuce, 50 pounds of onions and 40 pounds of cheese. It took a construction crane to flip the patty over.
The burger was created by the Black Bear Casino Resort in Carlton, Minnesota. Because nothing says "go gamble, because the apocalypse may be coming" like a mutant, earth-shattering burger the size of a Buick. 
The World's Largest Pizza Is Ginormous
Last week, five Italian chefs came together to create the World's Biggest Pizza. The delicious monstrosity measured 131-feet in diameter, tipped the scales at over 51,000 pounds, and contained 1,488 pounds of margarine, 19,800 pounds of flour, 10,000 pounds of tomato sauce, 8,800 pounds of mozzarella cheese, 551 pounds of salt, 220 pounds of lettuce and 55 pounds of vinegar. Zero pounds of pepperonis though and to be hones– waiwaiwaiwaiwaiwaiwait. Hold up. Lettuce? On a pizza? Look, if I wanted a salad I would've ordered it on the side. But I didn't. I asked for an extra round of garlic knots and a swimming pool full of ranch. Plus a to-go box.
150-Ounce Steak, From U.K.'s Duck Inn, Intimidates All That Try To Eat It         
The Huffington Post  |  By Rachel Tepper Posted: 01/11/2013 1:36 pm EST                                                                   
A pub in the U.K. may have bitten off more than it could chew with a monstrous 150 ounce steak challenge -- it's bested every single challenger to attempt it since its introduction last year.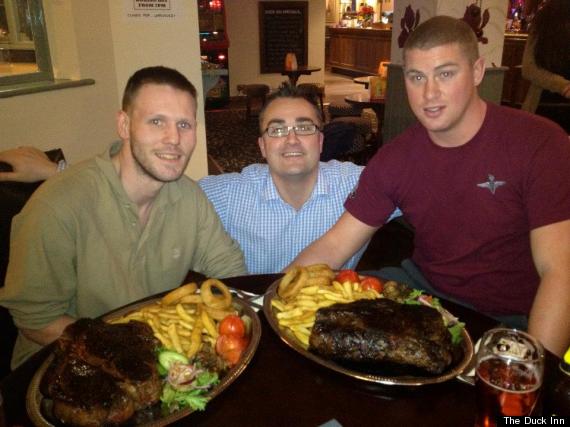 The Duck Inn in Redditch, Worcestershire offers to comp the full $177 (£110) price of the meal to anyone who successfully downs the steak -- and sides of chips and onion rings -- under an hour. The 12 inches long and 12 inches wide rump steak is four inches thick and requires two hours to cook medium rare. At roughly nine pounds, it weighs more than some newborn babies.
Mangalore Today writes that the challenge came about because people were clamoring for larger steaks, and pub landlords Ashley and Louise Gargan obliged. And yet some who attempt it often have to bow out less-than-gracefully, says Ashley:
"There's been a variety of different reactions from those who've attempted it, some go really pale or break into a sweat and give in. Whereas others go for a walk round the restaurant to try and make room for some more or order a soft drink to wash it down but all have thrown the towel in, in the end."
Relatively smaller portions are also available for large steak enthusiasts, although they're still hefty at 80 ounces, 90 ounces, 100 ounces and 120 ounces. Only a handful of people have ever attempted the 150 ounce steak, which means there's hope for a champion in the future.
The Daily Mail suggests that the steak could be the world's largest, but we're not so sure. A quick internet search led us to the "Big Kahuna" steak from AJ's Steakhouse in Grinnell, Iowa that clocks in at 205 ounces. Someone call Guinness World Records to get this sorted out.
Questionable food challenges and competitive eating in general are increasingly commonplace these days. Earlier this month, we learned about a British man who was the first of 300 attempters to polish off the hottest curry in the world. We also watched in horror as a competitive eater wolfed down every single item on Denny's Hobbit menu.
The World's Longest Dosa In Vijayawada:

Hoteliers here created a new Guinness record on Saturday, dishing out a 38.2-foot-long dosa, the longest ever made.
The feat was performed in the presence of Guinness Book of World Records Adjudicator Elizabeth Smith on the sprawling ground of the Siddhartha College of Arts and Science College as part of the golden jubilee celebrations of the Vijayawada Hotel Owners' Association.
The hoteliers outdid the previous record for the longest dosa, that was 32.5 feet long and was made by Sankalp Restaurant in Ahmedabad in August, 2009.
Onlookers' curiosity and anticipation were aroused as dosa batter was poured into the tawa from buckets. At the appointed hour, all dosa masters poured the batter, spread it and then joined their own batch with those of their neighbours.
Given that there could be just one attempt at the record, and that a perfect dosa was required to fulfil the criteria, tensions ran high. Rolling, the toughest part, had to be done without damaging the dosa or tainting the colour.
Once the crispy brown dosa was ready, Ms. Smith had it measured and announced, amidst cheers, that the South Indian delicacy measured 38.2 feet long. She then handed over a Guinness Book of World Records certificate to the representatives of the association.
Union Tourism Minister Subodh Kant Sahay broke a coconut on the 55-foot tava before the final act began. Rigorous practice sessions were carried out by 'dosa masters' from hotels all over the city for a week ahead of the record-breaking feat, under the guidance of chefs and members of the hoteliers' association.
World's biggest vegetable salad 

Volunteers take a portion from the world's biggest vegetable salad after a Guinness World Record attempt in Bucharest, Romania, Sept 23, 2012. The salad is made of 4 tonnes each of green salad and cucumbers, 2 tonnes each of sweet peppers, onions and carrots, 400 kg olives, 400 liters of olive oil and 400 kg of salt. (Xinhua/Gabriel Petrescu)

Largest Biryani Dish
6,600 pounds of rice were used to create this enormous batch of biryani, a traditional Indian rice dish.
Photo Credit Andrea Skjold/ Istock
Sixty Indian chefs in New Delhi cooked up a record-breaking batch of biryani, a traditional Indian rice dish, on March 1, 2008.
Chefs in New Delhi cooked up a 13-ton batch of biryani, a traditional Indian rice dish, which boasted 6,600 pounds of rice, 187 pounds of chili peppers, 370 gallons of oil, and 8,045 pounds of vegetables. We feel full just thinking about it. The food was then divided up and dispatched to orphanages around the city.
The Guinness World Record For The "Largest Hot Dog Commercially Available"
Gorilla Tango Novelty Meats CEO, Dan Abbate, was recently awarded a place in the Guinness World Records 2013 edition for creating the "Largest Commercially Available Hot Dog". At 7 lbs, 16 inches long, and 4 inches in diameter, the Big Hot Dog provides nearly 40 regular-sized servings for around $40. Continue below to watch a clip of Dan discussing the inception and assembly process behind his award-winning hot dogs.
World's Biggest Foods
Here are some truly monstrous foods!
World's Biggest Bagel
  World's Biggest Burrito
  World's Biggest Sandwich
  World's Biggest Sushi
  World's Biggest Bowl Of Tabbouleh
  World's Biggest Ice Cream Sundae
  World's Biggest Cheese Cake
  World's Biggest Cheese
  World's Biggest Codfish Stew
  World's Biggest Fish Taco
  World's Biggest Gingerbread House
  World's Biggest Lollipop
  World's Biggest Meatball
  World's Biggest Cake
  World's Biggest Hot Dog
  World's Biggest Cheese Burger
  World's Biggest Cup Cake
  World's Biggest Mozzarella Stick
  World's Biggest Nachos
  World's Biggest Pizza
  World's Biggest Ice Cream Cake
 --

Thanks & Best Regards,
AIJAZ AHMED
Dammam
Saudi Arabia